Picture it: it's the mid-1990′s and I'm sitting on a bar stool in the middle of a JC Penny's makeup department. I'm with my mom, who's at the Ultima II counter getting a makeover she scheduled a couple of weeks prior when she had gone to pick up her night cream. As a junior makeup junkie, of course I came along for the makeover, but may or may not have hidden myself behind a parka and a mirror when I saw a couple of my high school classmates walk by.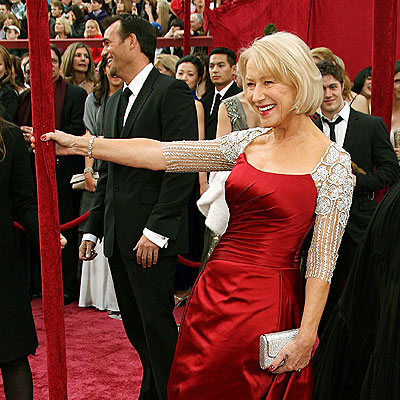 Helen Mirren

The sales lady and my mom were chatting, giggling away as foundation, powder, creams, liners, and mascara were applied to Mom's face. They were having a jolly old time, and then the sales lady said the magic words: "Your skin is just so porcelain and delicate: Just like Elizabeth Taylor!"
And the sale was made right then and there. Unwittingly, the sales lady said the exact words my mom needed to hear — Elizabeth Taylor has always been one of her beauty idols, and at the time Liz was all over the tabloids. This was right after she married Larry Fortensky and was at her sassy, cougar-ish best, her tanned (not porcelain, mind you) skin perfectly accentuating her famous violet eyes. Roar! Dame Liz had that exotic beauty and perfect bone structure that inspired a legion of women, myself included.
Remembering that moment at the Ultima II counter made me think about my own beauty idols, the women I've taken inspiration from as I've sculpted my own look through the years. As a fan of "Old Hollywood", I've always looked to the older big screen stars for my beauty inspiration and in my youth would spend hours looking at black and white shots of Audrey Hepburn, Sophia Loren, Vivian Leigh, and Natalie Wood, studying the arch of their brow and eye shape, trying to figure out how they were contoured so I could replicate it on my self. There may or may not have been an incident involving foundation several shades lighter than my actual skin tone. I will never confess.
Today I'm inspired by a bevy of stars, for many different reasons – J. Lo for her almost-always perfect makeup job, Kim Kardashian for her flawless foundation, Helen Mirren for keeping the sexy in her sixties, Halle Berry for doing the minimal makeup look so perfectly. One of the reasons I love looking at red carpet photos is to get more inspiration, seek out new ways to apply makeup, figure out color combos that I may not have thought of before. There's always something to learn, and that's the fun of it all.
Who are some of your beauty idols? Celebrities and non-celebs included